The MSC Foundation and Ba'a Foundation partner to save the coral
Joining forces to combine the findings of their innovative coral restoration programmes, the foundations are set to increase the global impact of their pioneering work

Focus Area: Environmental Conservation
As a highlight of the MSC Bellissima maiden call event in Jeddah, Saudi Arabia, on the 28th of July 2021, the MSC Foundation and Ba'a Foundation announced that they are joining forces to advance coral conservation to help safeguard marine ecosystems.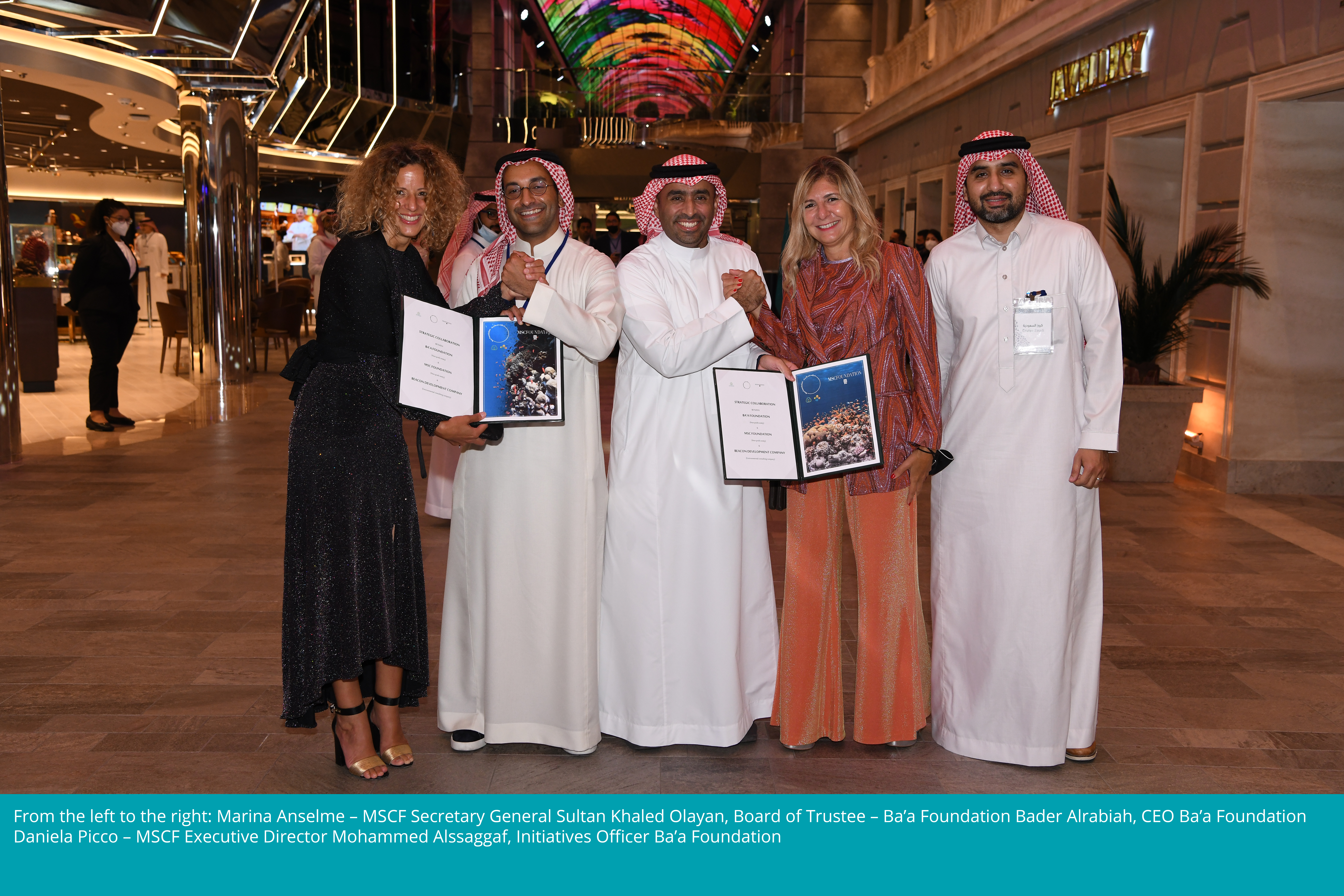 Sharing a common goal to protect and conserve the oceans, the two foundations are coming together to advance the practice and science of coral reef restoration, in which both are actively engaged with innovative programmes – MSC Foundation in the Caribbean, and Ba'a Foundation in the Red Sea. Equally important, both are committed to sharing the knowledge they acquire worldwide with the scientific community, decision makers and the MSC Cruises guests visiting these destinations, driving global awareness of the need for everyone to play a role and take action in protecting the oceans.
Coral reefs are among the most diverse ecosystems in the world and home to more than 25 percent of marine species despite only covering 1% of the seafloor. They serve as a food and economic resource for half a billion people and protect coastal communities from storms and erosion. However, according to the UN's Intergovernmental Panel on Climate Change, scientists predict that 70-90% of coral reefs are in danger of dying out within the next two decades (2030-2050).
So, it is with a sense of urgency that the partnership aims both to increase the area of reef habitat actively restored and to further the scientific understanding of and best practices for the functional restoration of coral reefs.
Under the partnership, the MSC Foundation is supporting a new initiative of the Ba'a Foundation that aims to revive damaged coral reefs in the Red Sea to secure and restore the marine life environment. Starting on the Jeddah coral reef in a proof-of-concept phase, the initiative will then scale up to become the world's largest reef restoration programme. The programme will integrate an array of techniques from coral gardening and transplanting to artificial reef balls that provide a hospitable substrate for coral larvae to settle.
The MSC Foundation is working with leading marine conservation experts to protect and restore the tropical ecosystems of coral reefs, fish and other marine species like the Queen Conch in 64 square miles of marine waters around the new MSC destination of Ocean Cay near Bimini in the Bahamas. Its Super Coral Programme aims to mitigate the impacts of climate change in the Caribbean and worldwide by pioneering, applying and sharing new conservation and coral restoration techniques. These include assisting coral's natural selection process by establishing certain hardy species and varieties known as "super coral", which are more resilient to environmental stresses like heat.
Pierfrancesco Vago, Chair of the MSC Foundation Executive Committee commented, "Our family company has a long tradition of seafaring, and protecting the ocean is a core value for us. This is also at the heart of the work of the MSC Foundation. Our coral reef restoration efforts started with Ocean Cay MSC Marine Reserve. Now, through this partnership with the Ba'a Foundation, which shares our strong commitment to the oceans, we are able to become more global in our efforts."
To provide a more complete picture of the event, you can read the full text of the partners speeches below: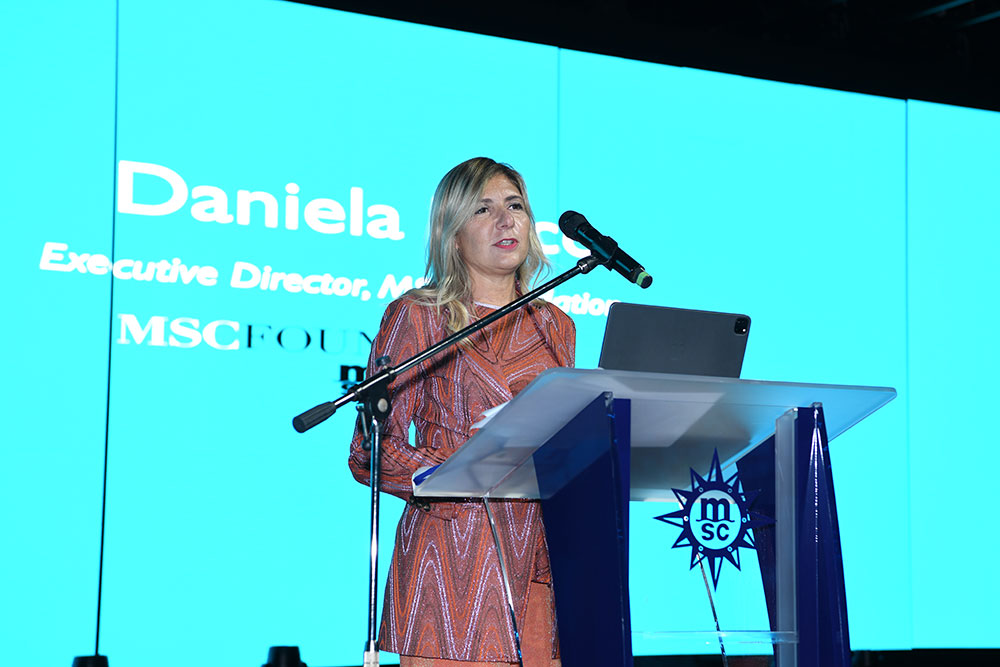 Daniela Picco, Jeddah event - 28.07.2021
Your excellences, authorities, partners, esteemed guests, members of the media, ladies and gentlemen, I am honoured and delighted to be here and to have the opportunity to address you with a few words about our vision and new project with the Ba'a Foundation.
The non-profit MSC Foundation was established three years ago to advance the MSC Group's marine conservation, humanitarian and sustainable development commitments worldwide.
We do so with a clear and urgent Vision statement, which is "to restore the critical balance between people and nature within a generation".
It is a matter of urgency because it's clear we're in a race against time on ocean pollution, degrading marine habitats and climate change.
We have to act before it's too late!
What distinguishes us is how we operate: leveraging the long marine seafaring tradition, know-how, global scale, reach and networks.
With these strengths, we can respond quickly to support communities in need around the world, raising awareness, mobilising resources, activating synergies and inspiring action….
We are uniquely positioned to contributing to protecting the seas!
Mr Farooqui's and Mr Vago's inspiring words have shown us how powerful a partnership, a synergie can be, working towards a shared goal with greatly increased reach and impact.
In the video, we saw the incredible results of the teamwork that have made a dream become reality at Ocean Cay…
where the MSC Foundation is advancing a marine conservation programme to reverse the steep decline of coral reefs seen around the globe, which threatens a quarter of all marine life.
Working with experts and Universities, we are working to develop pioneering techniques that could help save coral reefs worldwide, while also raising awareness of their value.
We are convinced that humanity won't be able to overcome 21st century threats unless we work together as one great family
It is in that spirit that we are embarking on this new journey with BA'A Foundation…
sharing the same strong commitment to the Blue Planet and coral restoration…
joining forces with a visionary partner to become more global in our conservation efforts.
With the combined knowledge and research capabilities of our Foundations' experts, and through our partnerships with leading universities, we can advance scientific knowledge and best practices, build global synergies provide lasting benefits for marine life, raise funds on board this ship and build awareness of the vital importance of coral restoration around the world.
I would like to take this opportunity to thank Ba'a Foundation CEO Bader Alrabiah for his great support.
We are delighted to partner with you!
You can read more about the MSC Foundation's marine conservation efforts here.