MSC Foundation and MSC Group deliver sustained global support to refugees from Ukraine
Relief and support since the beginning of the war exceed CHF 7 million by mid-November
Focus areas: Emergency Relief and Community Support
The war in Ukraine has caused massive destruction and population displacement across the country. By the end of November 2022, over 7.8 million refugees - mostly women and children - had fled their homes in Ukraine with only what they could carry, and Europe was facing its greatest refugee crisis in a century.
MSC Group companies and the MSC Foundation responded promptly to the rapidly unfolding crisis, mobilising synergistically in multiple initiatives to help thousands of refugees and displaced people by providing direct assistance, accommodation, relief items, the support of free containers, logistics and transportation, and fundraising with donation matching to support organisations working on the ground.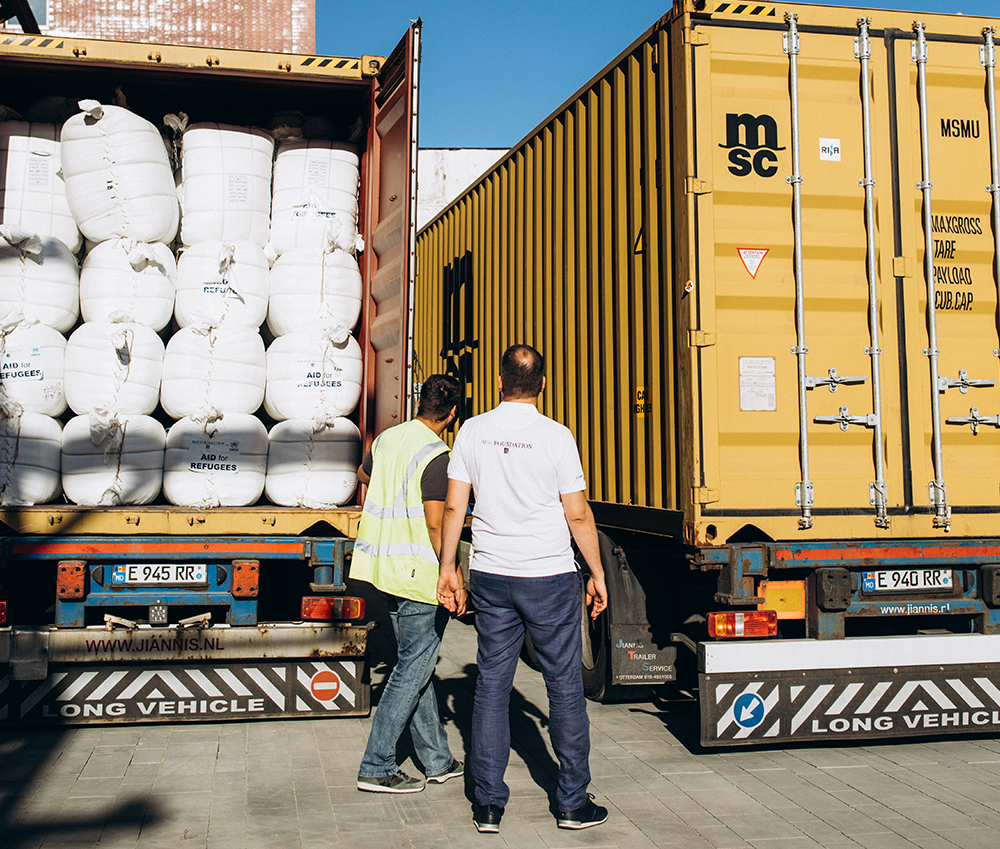 The first initiatives saw the MSC Group taking immediate care of its Ukrainian employees, crew members and their families, helping them to settle in safe third countries while covering their accommodation, health insurance and office expenses. By mid-October 2022, a total of 57 employees and their families had been supported to move to Moldova, Romania and the USA.
In parallel, MSC and MSC Cruises took urgent and sustained action to assist around 1,000 Ukrainian crew members and their families who had fled their homes, providing free hotel accommodation, medical insurance and all meals between March and July in the Romanian port city of Constanta until they had found permanent living solutions.
In March, the MSC Foundation committed to providing free logistics and transportation of approximately 40 containers for the UN Refugee Agency UNHCR's regional response for refugees fleeing Ukraine. This support was still ongoing in mid-October 2022, having only just passed the half-way mark (23 containers) as follows:
2,806,500 medical masks (56,130 boxes on 117 pallets) shipped in 4 forty-foot High Cube (HC) containers from Spain to Poland.

Household and cooking items shipped from Northern Europe to Ukraine and Poland:

251 dining sets and 200 chairs in 1 forty-foot HC container, 225 chairs, 10,200 bedsheets, 7,867 duvets and 7,248 towels shipped in 5 trucks, and 5,000 bedsheets and 5,000 duvets in 3 trucks.

100,000 solar lamps shipped from China to Ukraine in 11 forty-foot HC containers.
On the 25th of March, MSC Foundation donated a 20-foot container to the Italian Red Cross for immediate deployment in support of its emergency assistance for refugees from Ukraine and for emergency relief activities in subsequent years.
March also saw the launch of the MSC Foundation's largest action, with which it committed to purchase 80,000 high thermal blankets, 40,000 sleeping bags and 10,000 folding camp beds and to deliver them free of charge to UNHCR in Poland for its Blue Dot reception and transit centres for refugees and internally displaced people in Ukraine and neighbouring countries. The total value of this initiative was approximately CHF 940,000 for the relief items and around CHF 90,000 for their transportation.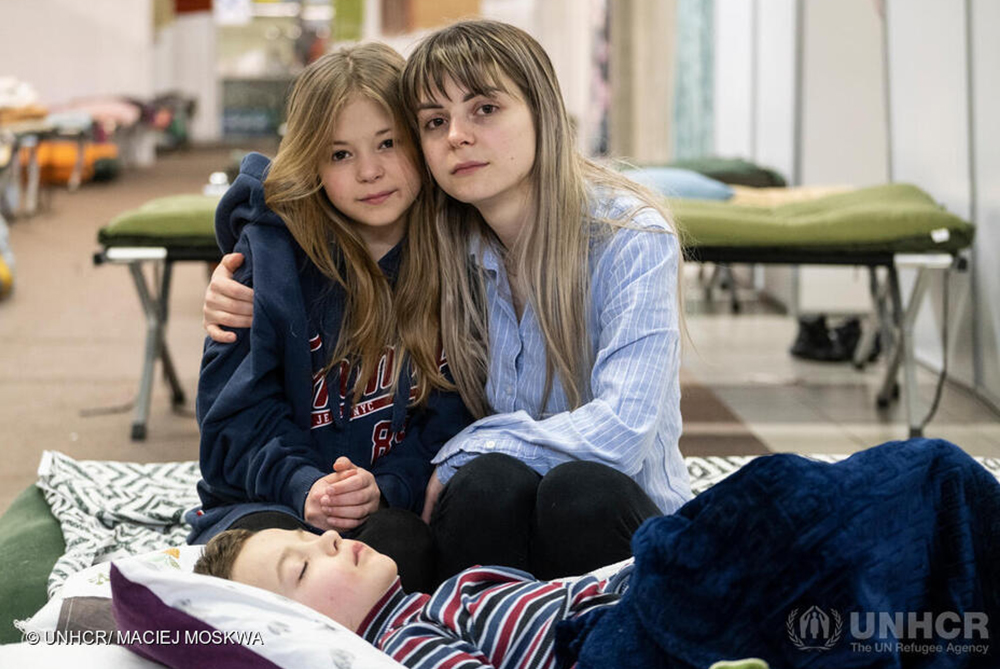 Supporting this, the Foundation launched a global fundraising campaign with donation matching called Joining Hands for Refugees from Ukraine. The 3-month campaign was assisted by many MSC offices and partners, including the Port of Miami, who shared posts across social media networks to reach a wider public. At its conclusion, 1,252 donors in 41 countries had donated more than CHF 150,000 to Joining Hands for Refugees from Ukraine, which the Foundation doubled to CHF 312,420. These funds were used entirely to contribute to the purchase of the above 130,000 emergency relief items, which the MSC Group transported free of charge in 30 containers to provide warmth and some comfort for the thousands of traumatised refugees and internally displaced people arriving at the Blue Dot Centres.
MSC Shipping Company offices in the Czech Republic, Germany and Slovakia joined forces at the outset of the humanitarian crisis, with employees donating a wide range of relief items that were transported by truck to Lutsk in Ukraine, where they were distributed in April to those most in need.
In April, MSC Foundation and MSC Spain joined Renfe, DB Schenker and DB Cargo in a Transfesa Logistics initiative to set up a humanitarian rail corridor to Ukraine and transport 800,000 kilos of relief items (food, clothing, medicines and hygiene products) collected by donors coordinated by the Ukrainian Embassy in Spain. MSC provided 20 forty-foot containers free of charge to transport the containers from Zendal Hospital Madrid via Germany to the open corridor between central Europe and Ukraine.
Then, in September 2022, the MSC Foundation and MSC Cruises donated 1,902 kg of potato gnocchi pasta, 388 kg of orecchiette pasta and 1,800 kg of tomato sauce to an initiative of the Town Council of Santa Marinella near Rome and the local charity Misericordia Santa Marinella to feed refugee families from Ukraine welcomed by the local community.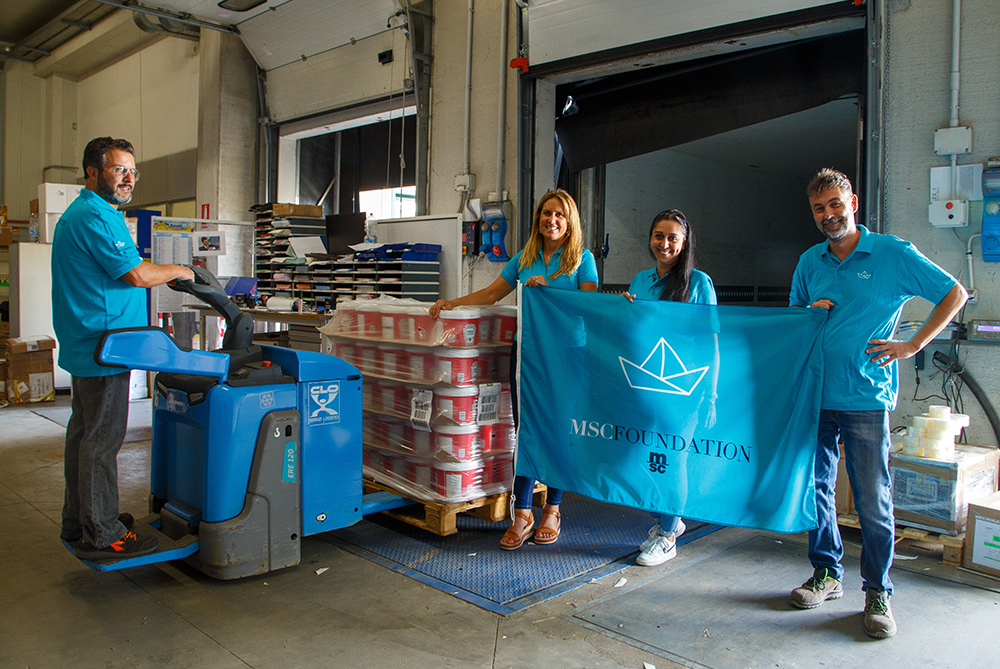 Overall, the total value of all MSC actions to assist refugees and displaced people from Ukraine had exceeded CHF 7 million by mid-November 2022, positively impacting the lives of many thousands of traumatised people of all ages, mainly women and children.