Swift support for the victims of Saint Vincent's violent volcanic eruption
MSC Foundation ships a container of essential relief supplies within days of the disaster
Focus Area: Emergency Relief
On Friday the 9th of April, La Soufrière, the largest volcano on the island of Saint Vincent in the country of Saint Vincent and the Grenadines, erupted explosively for the first time in 40 years. Further eruptions followed, with the blasts, sending plumes of ash six miles high, blanketing Saint Vincent in a layer of ash and forcing upwards of 20,000 residents to evacuate their homes and seek refuge in shelters.
The eruption and pyroclastic lava flows devastated the landscape, destroying forests, farms, homes and livestock.
Many food supply chains and water supplies to most of the island were cut off, forcing the government to drill for water and set up distribution points. In addition, Saint Vincent's airspace had to be closed because of the smoke and thick plumes of volcanic ash moving through the atmosphere.
The MSC Foundation responded swiftly, in line with its core mission to take immediate action to protect the blue planet and its people, intervening promptly in disaster situations.
Shortly after the natural disaster struck the island, the MSC Foundation formed a dedicated Task Force to coordinate the response, drawn from across the MSC Group, including Marina Anselme (Secretary General MSC Foundation) Rick Sasso (Chairman MSC Cruises USA), Fabio Santucci (President MSC Cargo USA), Allen Clifford (Executive VP MSC Cargo USA), Luca Gregorio (VP, MSC Cargo USA) and Alessio Lombardi (Trade Manager, MSC Cargo USA).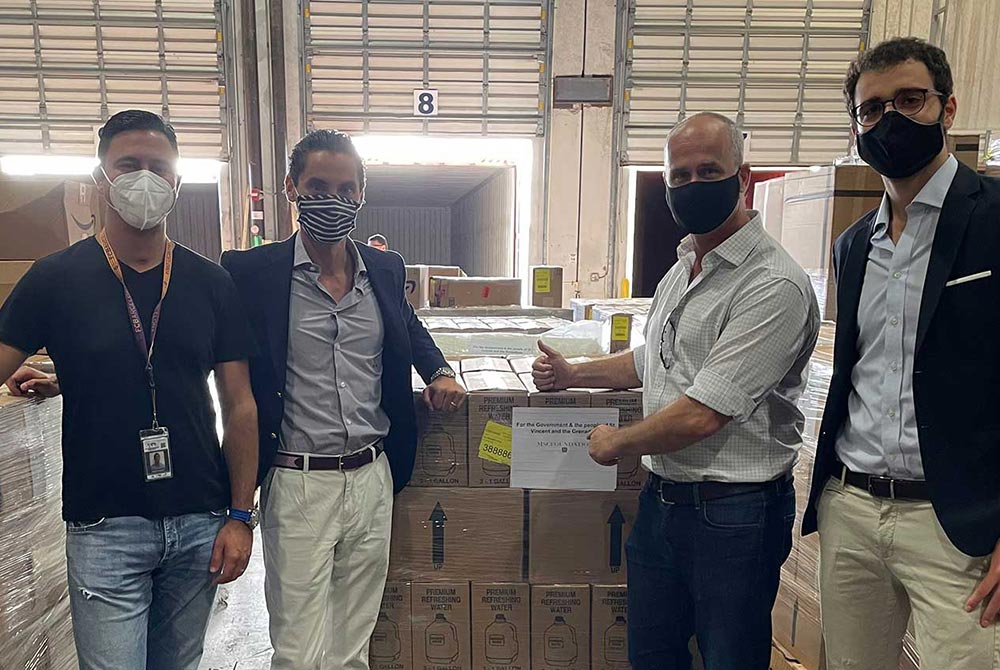 One of the Task Force's very first actions was to raise funds to purchase vital supplies for the island. Thanks to the immediate, ready generosity of MSC Cargo USA's employees, the Task Force soon received a combination of in-kind donations and $20,500 in cash with which it put together a relief package consisting of 20 pallets of mineral water, 6 power generators, 36 double and queen mattresses, 15 wall tents, 300 mylar thermal blankets, 192 hygiene kits, 15 collapsible water containers and 31 respirators, together with the required ocean freight, provided by Tropical in this region. All these items were then shipped immediately in a 40 HT container provided by MSC Cargo, reaching Saint Vincent within a week.
This swift provision of essential relief supplies once again shows how the MSC Foundation is uniquely placed to respond promptly and effectively to emergency and disaster situations on every continent, while also acting as a catalyst for relief and rebuilding resources thanks to MSC's global reach, leveraging its synergies with MSC Cruises and MSC Cargo and their offices and networks in 155 countries worldwide.