Prompt assistance of Genoa Customs helps MSC Foundation donate vital food aid
With food need rising sharply in the pandemic, swift intervention made all the difference
Focus Area: Emergency Relief
Creative thinking at the outbreak of the Covid pandemic meant that the MSC Foundation was able to save the perishable foodstuffs intended for MSC Cruises ships and distribute them from MSC Group's Bolzaneto logistics hub in Genoa to the local centres of the Caritas relief and social service charity. As a result, 140 reefer containers with 9 tonnes of fresh foodstuffs were taken from MSC Food & Beverage Division warehouses and MSC Cruises ships in Genoa port for distribution through the Caritas and Auxilium Food Hub service, providing an estimated 7,000 meals for those suffering economic hardship as a result of the pandemic. This and a donation of foodstuffs to Genoa's Gaslini hospital accounted for around half of all MSC Group foodstuffs donations through the MSC Foundation in 2020, totalling almost €1 million.
Commitment and teamwork is what made all this possible, with the MSC Foundation, MSC Cruises and MSC F&B working together while following an ad hoc procedure rapidly put in place by Italian Customs to enable all foodstuffs intended for use on cruise ships to be reclassified as no longer for export so they could be promptly donated duty-free. The Genoa 2 Customs Office stepped up to the bar in then completing the formalities as rapidly as possible, enabling the fresh food to be distributed while still in peak condition.
Gigi Borgiani, Director of the Auxilium Foundation and Vice-Director of Caritas for the Genoa Diocesan Area explained: "The pandemic aggravated food poverty. Over 1,700 new people contacted our centres in 2020, 600 of whom were suffering financial difficulties due to Covid and had urgent food needs. Our Food Hub service helped feed thousands of people and families between May and October, and the MSC Group was the biggest donor."
Andrea Maria Zucchini, Interregional Director of Customs for Liguria, Piedmont and Valle d'Aosta commented: "It was an honour for us manage the procedure for cancelling the export declarations with all due speed to support MSC in rapidly distributing these essential foodstuffs to the thousands of citizens who were sadly falling into need."
Giacomo Costa Ardissone, Chairman of MSC Food & Beverages Division, observed: "We are very grateful to the Genoa Customs Officers for their sensitivity and decisive help, which enabled us to release the foodstuffs so promptly to the charities and their beneficiaries. And we are proud to have been involved in such a fine example of the many initiatives that the family-owned MSC Group implements through its Foundation worldwide as well as in Genoa, one of its main cruise ports in the world."
Joining together to rise to the challenges of the Covid pandemic, MSC Foundation, MSC Cruises, MSC F&B, Caritas, Auxilium and Genoa Customs provide a further inspiring example of how hope can spring in adversity.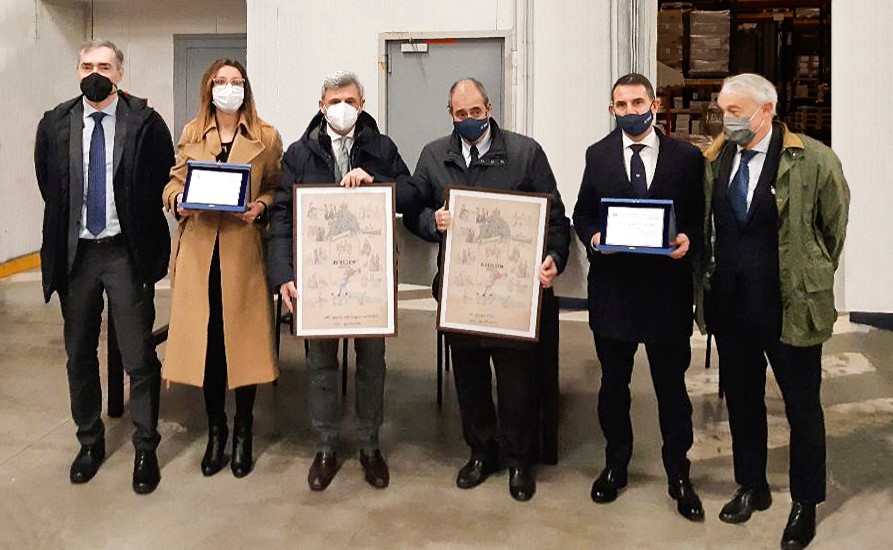 Andrea Maria Zucchini, Direttore Interregionale per Liguria, Piemonte e Valle D'Aosta dell'Agenzia delle Dogane e dei Monopoli
Teresa Rosaria De Luca, Director of Customs of Genoa 2 .
Gigi Borgiani, direttore Fondazione Auxilium e vice direttore Caritas Diocesana di Genova,
Gianandrea Bianchi, responsabile del settore Politiche del Cibo di Caritas Genova
Giacomo Costa Ardissone, Chairman MSC F&B