MSC Foundation Partners with Mercy Ships to support African Health Workers in Coronavirus fight


Focus Area: Community Support, Emergency Response
GENEVA SWITZERLAND, 13 January 2020 - The Ministry of Health in Conakry Guinea has taken delivery of a donation of Personal Protective Equipment (PPE) from Mercy Ships including 16,000 items valued at more than $100,000, thanks to the donation of shipping and port coordination provided through the MSC Foundation, part of the MSC Group.
Acknowledging the delivery were Mr Lo Abdel Kader, Director General MSC Guinea, Dr David Ugai Director Mercy Ships Guinea, Professor Raphiou Diallo, maxillo-facial surgeon and Head of Department Donka Hospital, Dr Bouna Yattassaye, Deputy Director General of the ANSS (French National Social Security Agency) and Aissatou Bhoye Bah, Administrative Assistant, Gamal Dental Clinic.
This shipment is the first of equivalent shipments which are being sent to 11 partner nations, by Mercy Ships International Operations in coordination with its European Distribution Center in Rotterdam, the Netherlands. Shipments are destined for Benin, Cameroon, Congo, Democratic Republic of the Congo, Ghana, Guinea, Liberia, Madagascar, Senegal, Sierra Leone, and Togo. The PPE is designated for distribution by Ministries of Health for each nation's ongoing battle to continue medical care and keep healthcare workers safe.
The provision of this much-needed logistical support enables Mercy Ships to concentrate more of its resources to healthcare and training. The MSC Foundation has supported the work of Mercy Ships since 2011, with a special focus on Africa including participation with the Mercy Ships Cargo Day.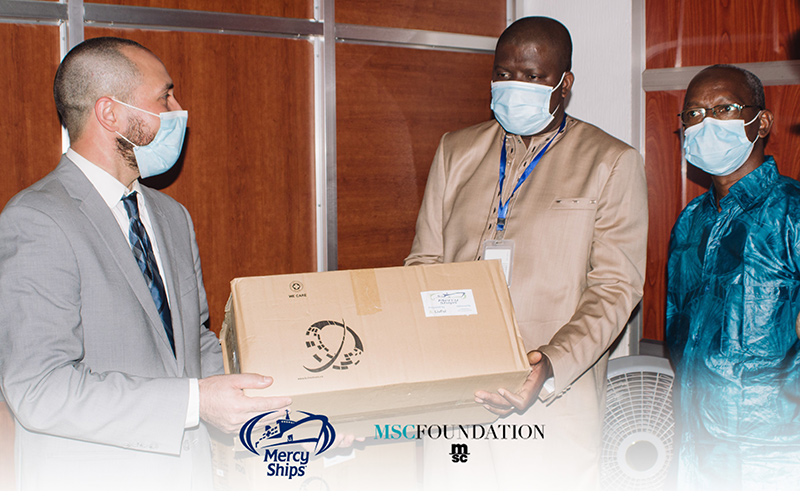 "Together with the MSC Group, the MSC Foundation has taken swift action since the beginning of the pandemic to provide prompt support worldwide to combat COVID-19 and help mitigate its impact on disadvantaged groups. Our efforts will continue for as long as the pandemic is a threat. At this critical time we are happy to provide essential PPE to partners of Mercy Ships who bring hope and healing to thousands of people who lack access to safe, modern healthcare and surgical care," stated Daniela Picco, Executive Director MSC Foundation
Each year, 18.6 million people die due to lack of access to surgical care, 93 per cent of whom stem from Africa. This partnership has helped Mercy Ships provide more than 18,000 life-changing surgeries in sub-Saharan and Central Africa according to spokespersons.
"For more than 30 years, Mercy Ships has stood shoulder to shoulder with our African partners to address the global surgery crisis. Throughout this battle with the pandemic, Mercy Ships continues to conduct online medical capacity training and support ongoing projects with partners on the ground. We are committed for our ship to return to help strengthen healthcare systems within West and Central Africa, as soon as the global situation allows," stated Dr Pierre M'Pele, Africa Bureau Director for Mercy Ships.
This is the second round of PPE donated, with the first round being in spring 2020.